ARCHERY
Welcome to the Hopewell archery page! Our 2020 3D archery event dates are in. Don't forget that Veterans and children under the age of 15 shoot free at all of our archry events and that all Hopewell Archery events are open to the public.

2020 3D Archery Highlights:
• More New, Easy To Pull From, Targets (full course)!!!
• Additional Trails
• US Veterans & Active Military Shoot FREE
• Kids 15 & Under Shoot FREE (11 & under previously)
• First Responders Shoot FREE

Thank you to the entire Archery Committee and other members for all of your hard work in making our program better and better!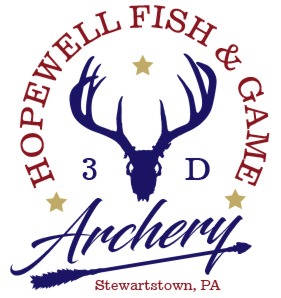 Thank You Bowhunters Superstore
For All Of Your Support!
About Hopewell Fish and Game 3D Archery Events
VETERANS SHOOT FREE at ALL Hopewell Fish & Game Archery Events. If you are disabled or know a disabled archer wishing to shoot the course, please contact Jarvis Green at 717-793-1422 in advance so we can be sure to have volunteers on hand to be escorts and or arrow caddies throughout the course.

Our courses are always at least 30 targets (with scoring rings) long and consist of many animal species and challenging shot opportunities. We have 3 pins to shoot from at each target. Our Orange Challenge Pin shots are typically 60 yards or less. Blue Hunter Pin shots are typically 40 yards or less. White Traditional Pin shots are typically 30 yards or less. It's Fun For the Whole Family! Food & Beverages Available! For more information, please contact Jarvis Green at jarvisgreen3@yahoo.com or 717- 793- 1422. HopewellFishAndGame.com/Archery Thank you!
2020 Archery Event Schedule
* No-touch Sign-in & Pay Available - CLICK HERE TO PRE-SIGN-IN & PRE-PAY (if not free)
* No Large Groups Please / Sorry, Not Serving Food
* Shooters, please remember to take responsible COVID-19 safety measures.
July, 11 (Saturday) - 3D Shoot - 7am-1pm
August, 8 (Saturday) - 3D Shoot - 7am-1pm

"Bowhunter's Weekend"
September, 5 (Saturday) - 3D Shoot - 3pm-8pm
September, 6 (Sunday) - 3D Shoot - 7am-1pm

Cost per round:
Members: $5
Non Members: $10
Kids 15 and Under: Free
First Responders (Police/Fire/EMS): Free
US Military Veterans: Free

Food and Refreshments are available at each shoot in the clubhouse.

For more information about our shoots, please contact Jarvis Green at 717-793-1422 or Jon Miles ("Smiles") at 717-578-1242.

MEMBER VOLUNTEER HELP IS NEEDED:
Member help is needed for building the new targets and setting up the Friday evening before each shoot. If you need volunteer hours for your membership, please contact Jarvis Green at 717-793-1422 or Jon Miles (Jon Smiles) at 717-578-1242 for more information about assisting with the archery events.
---
SPONSORSHIPS
Sponsorships are available at Hopewell Fish and Game Association for ANY of our club amenities. We are a 501 (4) C Non-Profit. To sponsor us please send an email to webmaster@hopewellfishandgame.com